Lisbon is one of my favorite cities, a beautiful city that I never expected to love so much. Lately, I've started organizing my photo archives and while going through them, I remembered the beautiful time I had there a few years ago and wanted to write this blog about Lisbon. So, here are a few words about Lisbon from my eyes and memory. This is the first part of three.
Lisbon is located by the Atlantic Ocean, and like most European cities, a river runs through it. Its historical and cultural texture, which has been going on for years, is very rich. The city has a very colorful and lively texture. In almost every part of the city, there are giant jacaranda trees with magnificently colored flowers and azulejo mosaic tiles covering the exteriors of the buildings. A city that lives 24/7 one could say. I've been told the city had a lot of visitors in the last few years, it's absolutely true. That's why taking photos becomes quite difficult, a tourist instantly appears in your frame.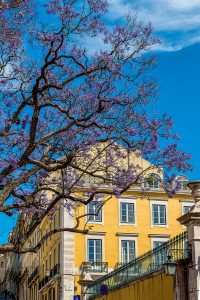 I stayed in Bairro Alto, a district also known for entertainment and nightlife of the city. This district, which is mostly frequented by young people, reminded me of İstanbul's Beyoğlu district. Small cafes, pubs and bars create a cozy atmosphere.
When I was in Lisbon, 2018 World Football Cup was played. Although I'm not a fan of football, the World Cup is an exception. I've always enjoyed watching World Cup games since my childhood. And my visit happened to be on the day of the Spain-Portugal match. Everyone in Lisbon was so excited about this game. A big screen and food courts and after-party stands were organized in the Comercio Square (Praça do Comércio), for everyone who would be willing to watch the game outdoors. Pubs in Bairro Alto, on the other hand, decorated the streets, arranged seating areas where tourists could watch the game and prepared special match menus.
On the day, I visited Cascais, Sintra and Cabo da Roca. Because I forget eating, drinking, basically everything, when I start taking photos, I only realized time flew by when I saw people rushing towards home and suddenly it was so quite all around. The game was about to begin in less than half an hour! I jumped in the car and returned to Lisbon in 20 minutes. I immediately entered a pub where everyone was watching the game while having fun. As soon as the game was over, I grabbed my Nikon and found myself in Praça do Comércio. The after party was very colorful. From time to time, I even forgot to take photos. Many young people wearing the Ronaldo jersey and ornaments in the colors of the Portuguese flag posed for me. I really enjoyed it.
I did have a wonderful day, but the situation was changing. Lisbon has steep slopes like those in Istanbul's Tomtom neighborhood. And the climbing up to Bairro Alto (upper neighborhood) from the riverside session was about to begin. I was tired and it was quite late. Fortunately, the streets were still full of people having fun and I was able to come to the hotel without even noticing the slope.
This concludes Part 1…